What you need
3 large eggs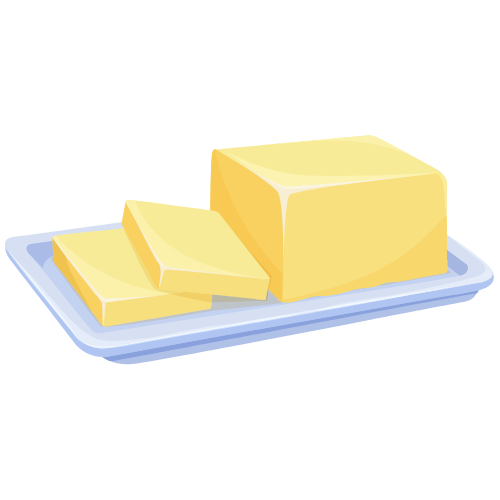 ¾ cup melted butter
(or coconut oil)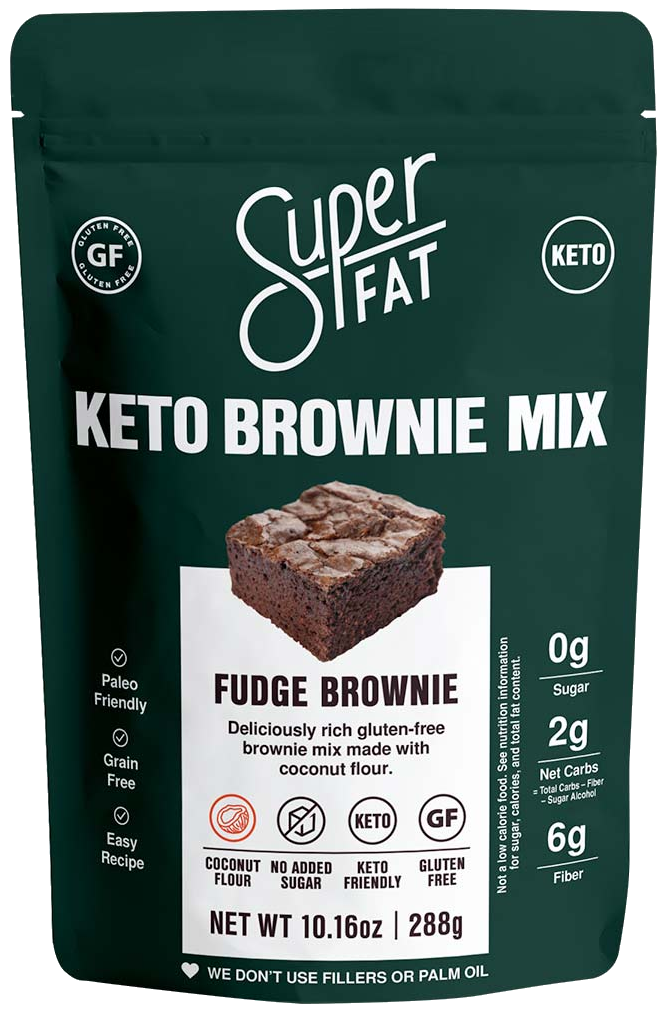 1 pouch of dry mix
Delicious, Chewy, and Chocolatey Keto Brownie Mix
Indulge in rich, chocolatey brownies without sacrificing your fitness goals. Using coconut flour and cocoa powder, Perfect Keto Brownie Mix dishes up that classic flavor without added sugar, gluten, grains, veggie oils, or junk.
All-Natural Low Carb Brownie Mix
All the ingredients inside are clean, minimal, and high quality. Bite into decadent, fudgy chocolate sweetened with low-carb erythritol, stevia, and monk fruit. They come together to make each serving only 2g net carbs.
Convenient, Easy, and Keto-Approved Brownie Mix
There's no bad time for brownies. You just need a couple of minutes, eggs, and some butter to whip up ultra-chocolatey brownies at home. Enjoy them as traditional brownies, brownie cupcakes, or crumbled brownie topping.
What's inside?
Every ingredient pulls its weight.
Coconuts

Coconuts are rich in MCTs and a great source of potassium and magnesium.

Soluble Tapioca Fiber

Soluble tapioca fiber is a unique, keto-friendly sweetener and dietary fiber made from non-GMO tapioca starch.

Cocoa Powder

Rich in polyphenols, cocoa powder may help reduce the risk of heart attacks, as well as high blood pressure.

Chicory Root Fiber

Chicory Root Fiber is a good carb-conscious source of fiber and contains beta-carotene.

Erythritol

Erythritol is a non-caloric sugar alcohol.

Stevia

Stevia is a low-calorie sugar substitute that comes from the Stevia rebaudiana (Bertoni) plant.

Monk Fruit

Monk fruit is all-natural and is just as sweet as regular sugar but without the calories or negative effects on blood glucose levels.
FAQ
Can I eat brownies on keto?

In a nutshell, yes you can enjoy brownies while on a keto diet as long as they don't use ingredients that will kick you out of ketosis. Furthermore, before choosing a brownie, check the nutrition label for the number of net carbs per serving to ensure that you'll stay within your daily carb allowance.

What are keto brownies made of?

Keto brownies are usually made with low-carb and high-fat ingredients such as coconut flour, cocoa powder, and chicory root fiber. Furthermore, it uses sweeteners like erythritol, stevia, and monk fruit instead of regular sugar. Together, these ingredients achieve brownies that taste like traditional versions and are even healthier.

How many carbs are in keto brownies?

It depends on the brand you choose. Some options have more carbs than others, which is why it's important to always check. If you're still looking for the best keto-friendly brownies, our Perfect Keto keto fudge brownie mix has only 2 grams of net carbs per serving (1 brownie). You can even eat up to three brownies without worrying about falling off the keto wagon.

How many calories are in sugar-free brownies?

Sugar-free brownies are usually lower in calories than high-sugar versions. While sugar adds calories to your diet, they tend to be empty calories. Meaning, sugar does not provide any real nutritional value. Our Perfect Keto keto fudge brownie mix has no added sugars and contains only 120 calories per serving.

What is in a keto brownie mix?

Keto brownie mixes use healthy flour substitutes like coconut flour and almond flour. They avoid grain-based flours (often used for traditional high-carb baked goods) which can make your blood sugar spike. Our keto brownie mix is made with coconut flour and other ingredients that allows you to stay on track while also satisfying your sweet cravings.

How many carbs are in homemade brownies?

It varies depending on what the homemade brownies are made of. If you need homemade brownie recipes, we recommend trying our

sugar-free avocado brownies

with only 2.4 grams of net carbs per serving or our

peppermint crunch brownies

with only 3 grams of net carbs per serving.

Are keto brownies healthy?

If you're trying to eat fewer carbs for weight loss and metabolic health, then keto brownies are healthy alternatives to sugar-packed desserts. Keto brownies can, in fact, serve as a perfect pre- or post-workout energizing snack since they contain high amounts of fat (and some carbohydrates, although the amount is always lower than usual).

How long do they last after baking? Should they be refrigerated to last longer?

Brownies are best consumed within four days after baking. After that, it's best to throw them in the fridge.

Can I use an egg substitute?

Yes, you can use an egg substitute like coconut oil (1/4 cup of coconut oil for one egg), greek yogurt, or chia seeds mixed with water.

How many servings in each mix?

Each Perfect Keto Brownie Mix makes a 9"x9" pan with 16 servings.
Customers love Perfect Keto