Perfect Keto is Featured On



See what's included in the Starter Bundle
Doctor-developed. Backed by Science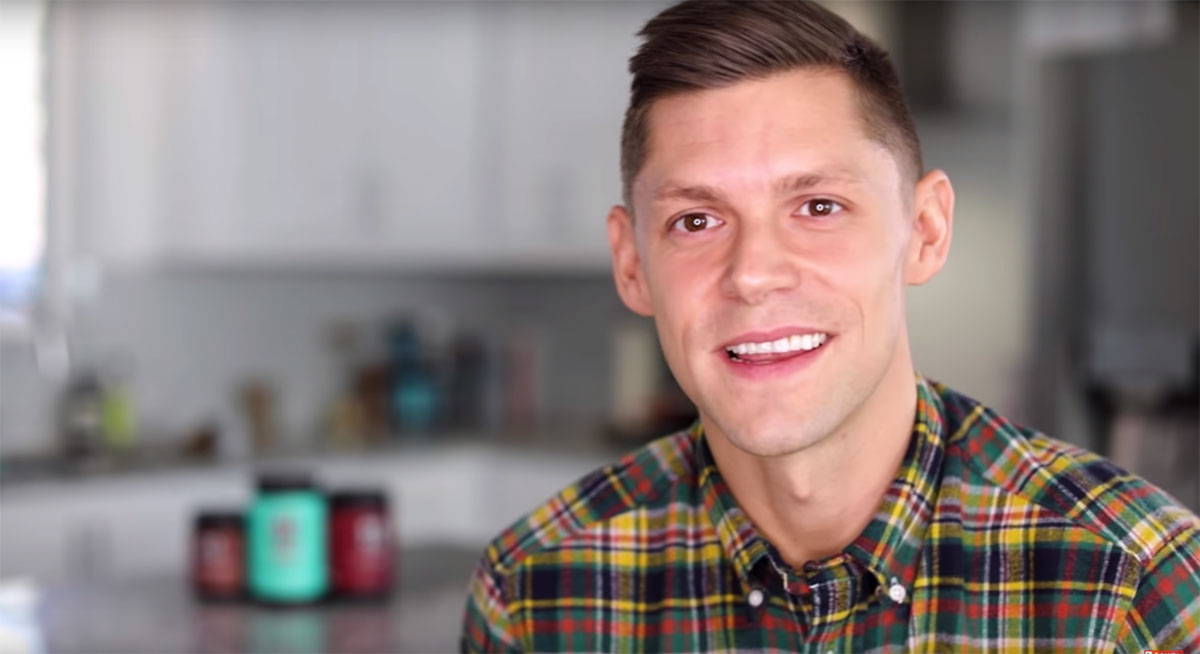 There's a right way and a wrong way to do keto. There's a healthy way and an unhealthy way. We're the healthy way. We're the only company doing keto right. No junk.

-Anthony Gustin, Founder, Perfect Keto
Order Now
When To Use
Morning
To curb your appetite during intermittent fasting.
Afternoon
To energize you through the afternoon slump.
Workout
To fuel your body with ketones.
Starting Keto
To combat keto flu symptoms.
Travel
Pack in your bag for ketones on the go.
Exogenous Ketone Base

Mornings, afternoon slumps, before workouts, for mental clarity, and aid in reducing "keto-flu" symptoms. Exogenous ketones act as fuel for your keto lifestyle.

MCT Oil Powder

Just mix a scoop with your favorite beverage for an easy, satisfying treat. Our MCT Oil Powder can make your coffee creamy, turn almond milk into keto chocolate milk, or add clean, delicious sweetness to your morning smoothie.

Keto Collagen

Made with no artificial ingredients, our Collagen comes in delicious flavored options you can mix with your favorite beverage or dessert, or an unflavored option that can be used in savory dishes as well.

Ketone Testing Strips

No pricking your fingers or buying expensive breath-testing equipment. Find out if you're in ketosis in minutes.
America's #1 Keto Brand
what makes
Perfect Keto Exogenous Ketone Base Better?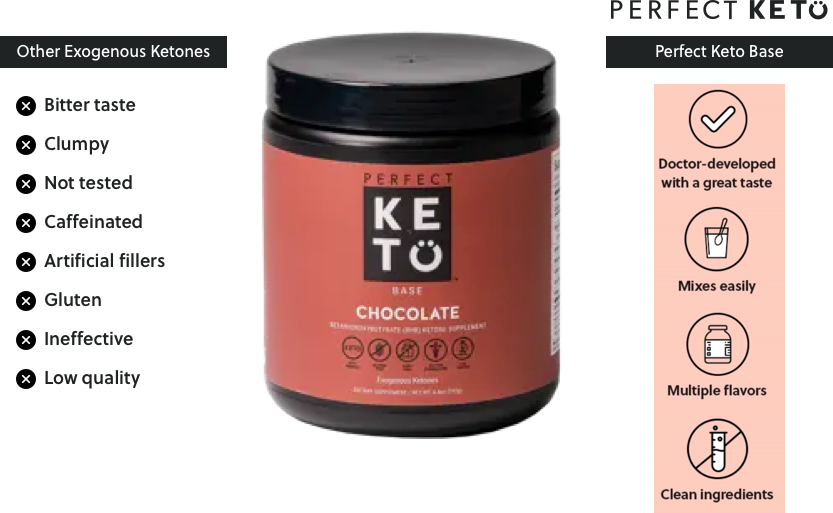 what makes
Perfect Keto Collagen Better?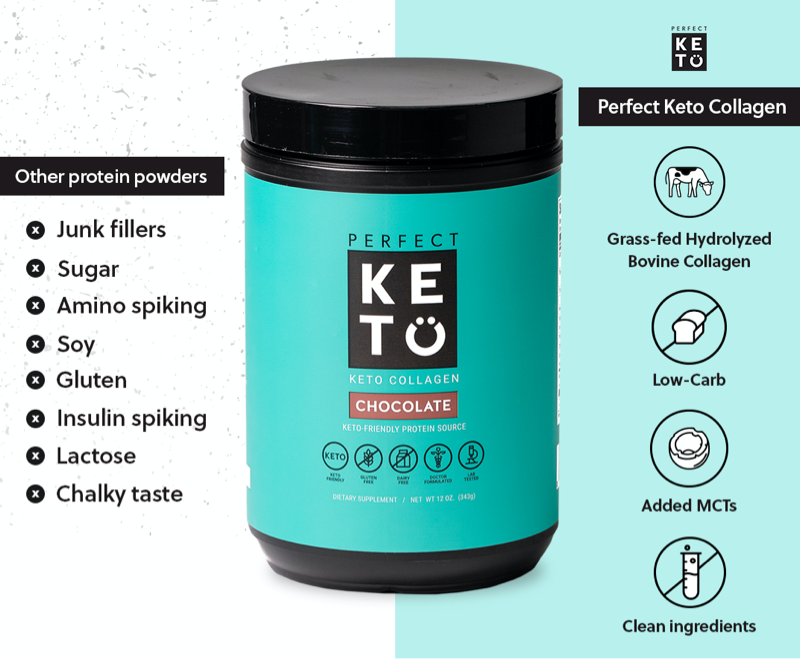 what makes
Perfect Keto MCT Oil Powder Better?
what makes
Perfect Keto Exogenous Ketone Base Better?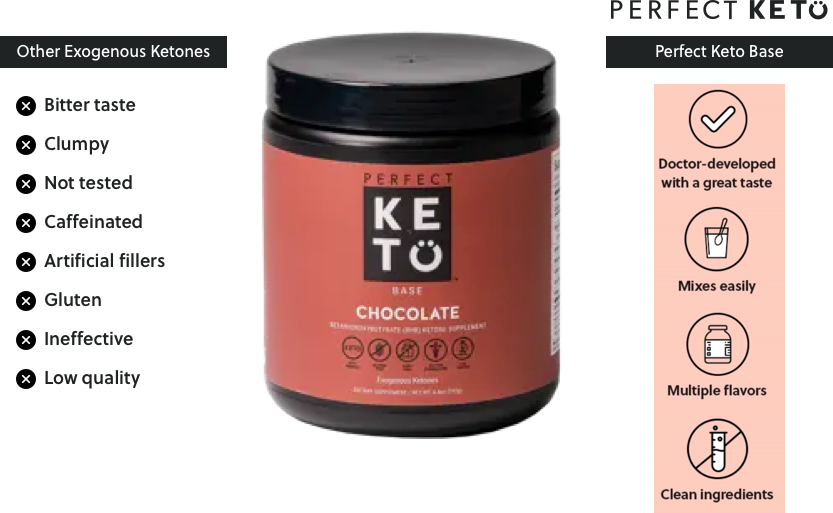 Clean ingredients, only.
Most 'keto' snacks and supplements are filled with junk. Not ours.
No added sugar
Nothing artificial
No fillers or chemicals
No gluten/grains
No soy or corn
Order Now
Trusted by health leaders.
"Perfect Keto is my favorite because there are never any artificial or scary ingredients. It's only what you need for great keto energy and recovery, and nothing extra."

Joe Rogan

JRE Podcast, American stand-up comedian, & mixed martial arts commentator
"Perfect Keto makes it easy to stay keto, have high energy, and get shit done. And that's really what the ketogenic diet is all about."

Leanne Vogel

Healthful Pursuit
"Perfect Keto is the cleanest out here. Plus the MCT's are essential in my daily routine for fast energy, and Perfect Keto never puts in any fillers and additives can cause a glucose spike."

Ben Greenfield

Fitness Influencer, Podcaster
"I add Perfect Keto to my coffee, smoothies, and even use them to make keto-friendly protein bars. They are one of the very few products that focus on quality ingredients."

Martina Slajerova

KetoDiet Blog
FAQ
Can I use the products together?

Absolutely! These products are safe to use together.

What is the difference between the MCT Oil Powder and Exogenous Keto Base?

Exogenous Ketone Base delivers ketones so they are primed and ready to enter your bloodstream whereas MCT supplements, like our MCT Oil Powder, enter your body as a fat that is then converted into ketones during the digestion process.

When is the best time to use the products?

We recommend you use a Ketone Testing Strip first thing in the morning to see if your body is in ketosis.

Beat early-morning grogginess by adding a scoop of vanilla or chocolate MCT Oil Powder to your cup of coffee.

At 3pm, when your energy dips and the sugar cravings start to rage, add a scoop of peach Exogenous Ketone Base to ice water. You'll crush those cravings and enjoy an added-sugar-free, caffeine-free, crash-free boost of energy.

After dinner, treat yourself to a decadent, keto-friendly hot cocoa made from chocolate Keto Collagen Powder stirred into warm almond milk.

You can see more suggestions on how to use these products on our blog.
Customers love Perfect Keto
Customer Reviews
Write a Review
Ask a Question
Filter Reviews:
flavor
alley
mct powder
tummy
07/03/2020
Kathy N.
United States
Negative⭐️ Super Disappointed
I still have not received my order. It's been almost a month and I paid for shipping. After being blind sided by the really shady discount code (that I did not get) and the bad customer service response. I more than likely won't purchase anything from this brand again.
06/30/2020
Stuart C.
Canada
Not worth it
I will not buy this again. While this company advertises and promotes though constant e-mails about free shipping. It is not free to Canada. So I paid them for the expensive product. I paid shipping to Canada. Now I've been notified I need to duty. NEVER AGAIN!!!!!
06/28/2020
Daren M.
United States
I am very happy with
I am very happy with everything I have tried. Perfect Keto is my go to site
Flavored Bundle Is Not All Flavored
I was disappointed when I received my bundle. I selected vanilla since I already MCT OIL Powder in chocolate. I didn't catch in the picture that the MCT OIl Powder is unflavored! No more bundles for me!